Operation Baghdad Pups : SPCA International
This is a picture of our founder, Jesse Adams, in February of 2015, in the Middle East working with the SPCA International with their fantastic program called "Operation Baghdad Pups". This program helps bring military dogs and dogs friended by US military members to come back home.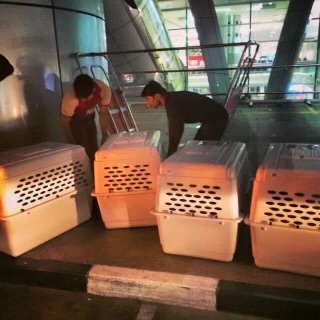 This is to ensure no dog is left behind that has served for the military dogs helping save lives. Jesse, is seen here with 6 highly trained Belgian Malinois that were American military mine detection dogs needing to be brought home from Afghanistan to the USA, to be rehabilitated from their military service resulting in PTSD. 
It was an honour for us to be able to be part of such an amazing and honourable program.